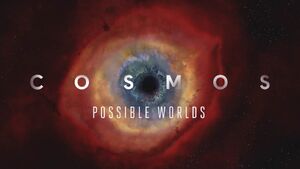 Cosmos Possible Worlds is the third series of Cosmos. Hosted by Neil deGrasse Tyson, it ran thirteen episodes from 9 March through 20 April 2020 on National Geographic Channel and Fox.
The host explores possibilities of far away planets, and possible futures of our own.
Ladder to the Stars
The Fleeting Grace of the Habitable Zone
Lost City of Life
Vavilov
The Cosmic Connectome
The Man of a Trillion Worlds
The Search for Intelligent Life on Earth
The Sacrifice of Cassini
Magic Without Lies
A Tale of Two Atoms
Shadows of Forgotten Ancestors
Coming of Age in the Anthropocene
Seven Wonders of the New World
Community content is available under
CC-BY-SA
unless otherwise noted.