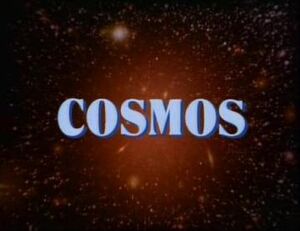 Cosmos A Personal Voyage is the original series of Cosmos. It is a thirteen-part television series hosted by Carl Sagan. It first aired from 28 September through 21 December 1980 on PBS.
Summary
The host travels the Universe in his Ship of the Imagination, presenting science topics, the history of science, and biographies of scientists.
Episodes
Development
Cosmos was produced in 1978 and 1979 by Los Angeles PBS member station KCET on a roughly $6.3 million budget, with over two million dollars additionally allocated to promotion. Written by Carl Sagan, Ann Druyan, and Steven Soter, it was executive-produced by Adrian Malone, produced by David Kennard, Geoffrey Haines-Stiles, and Gregory Andorfer, and directed by the producers, David Oyster, Richard Wells, Tom Weidlinger, and others.
Groundbreaking special effects allowed Sagan to seemingly walk through environments that are actually models rather than full-sized sets, including the Cosmic Calendar.
Availability
Book
A book by Sagan was co-developed to complement the series. Later, a sequel was published.
Soundtrack
A soundtrack LP, The Music of Cosmos, was released by RCA Records in 1981. It was reissued on CD in 1994 and 2002.